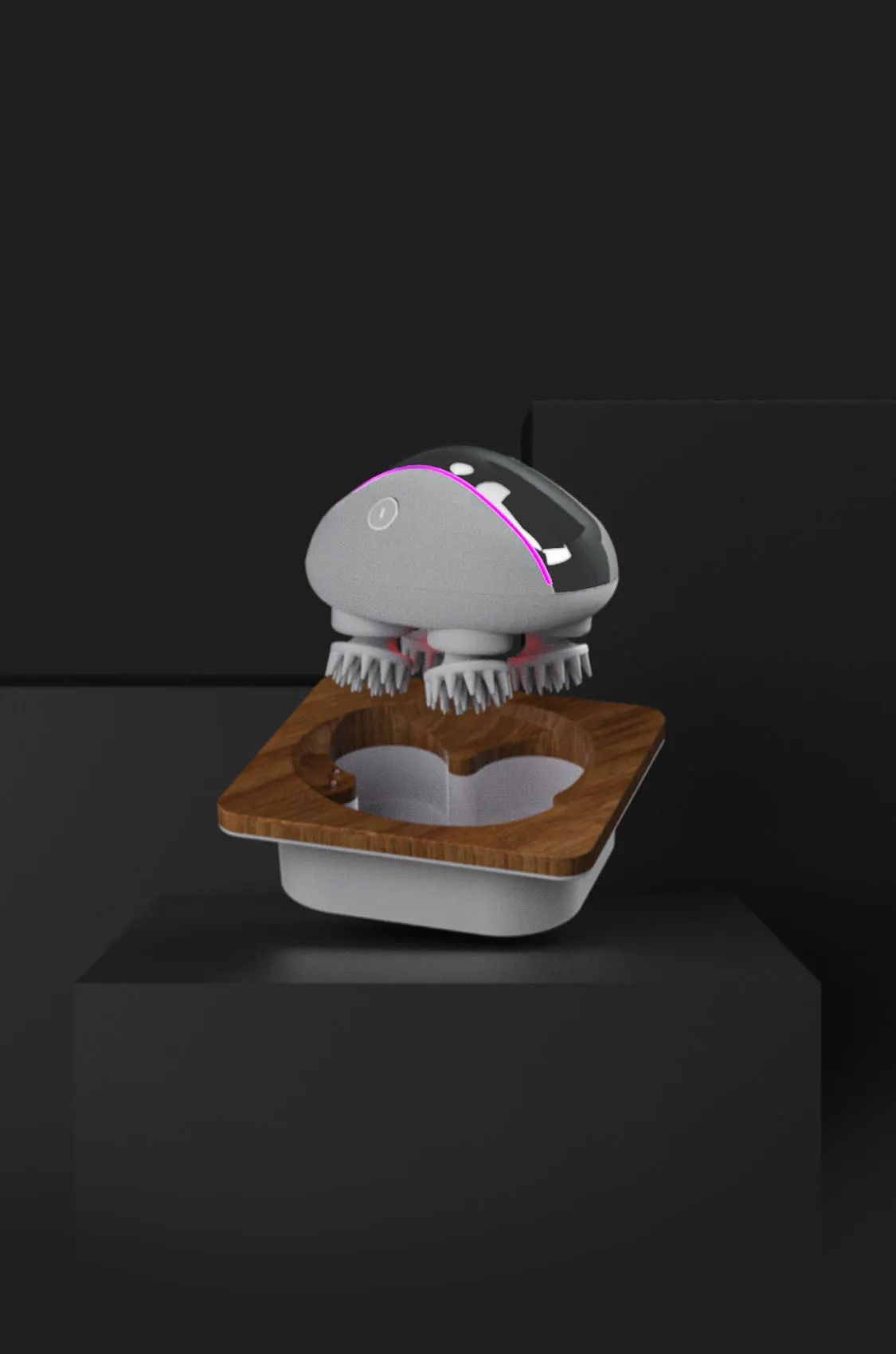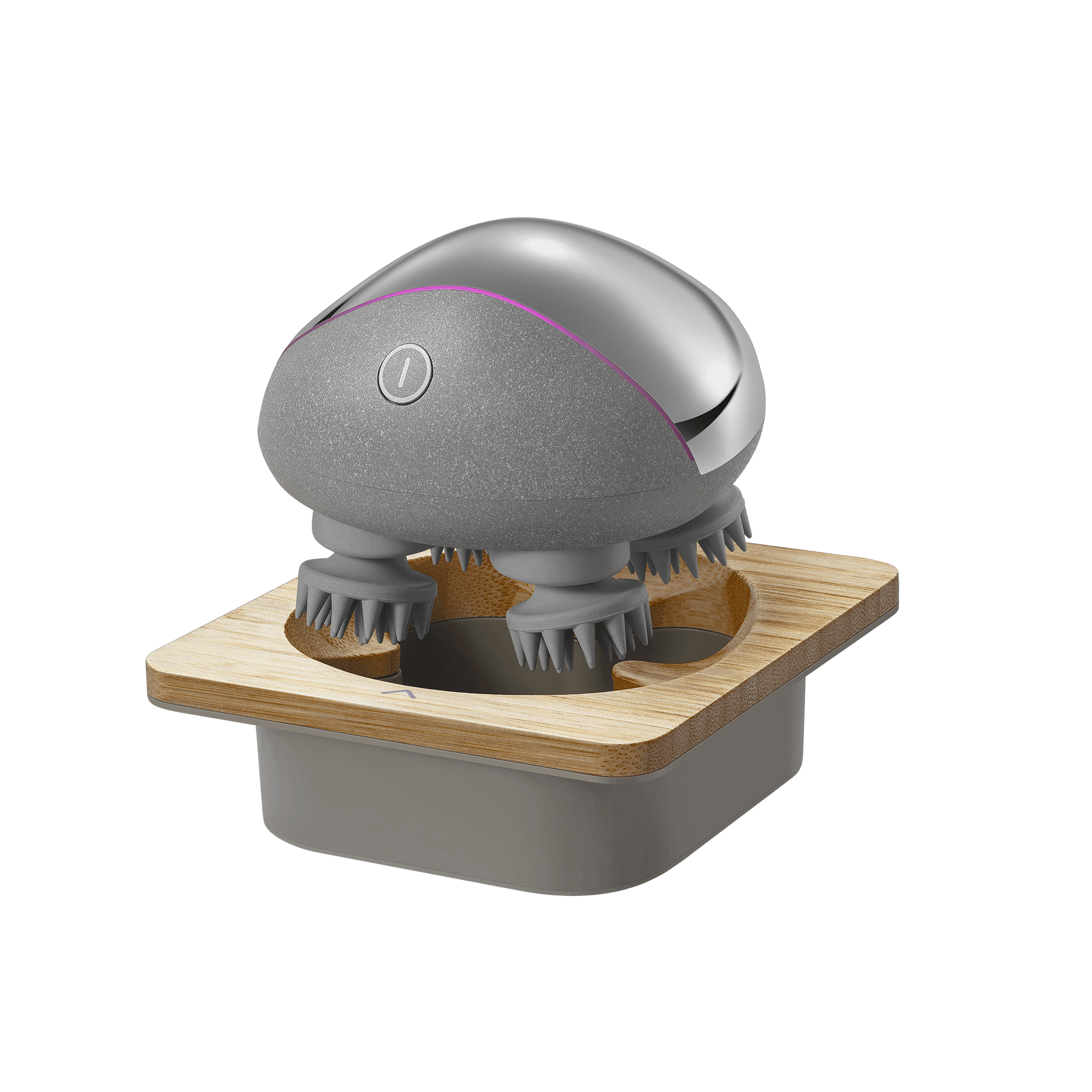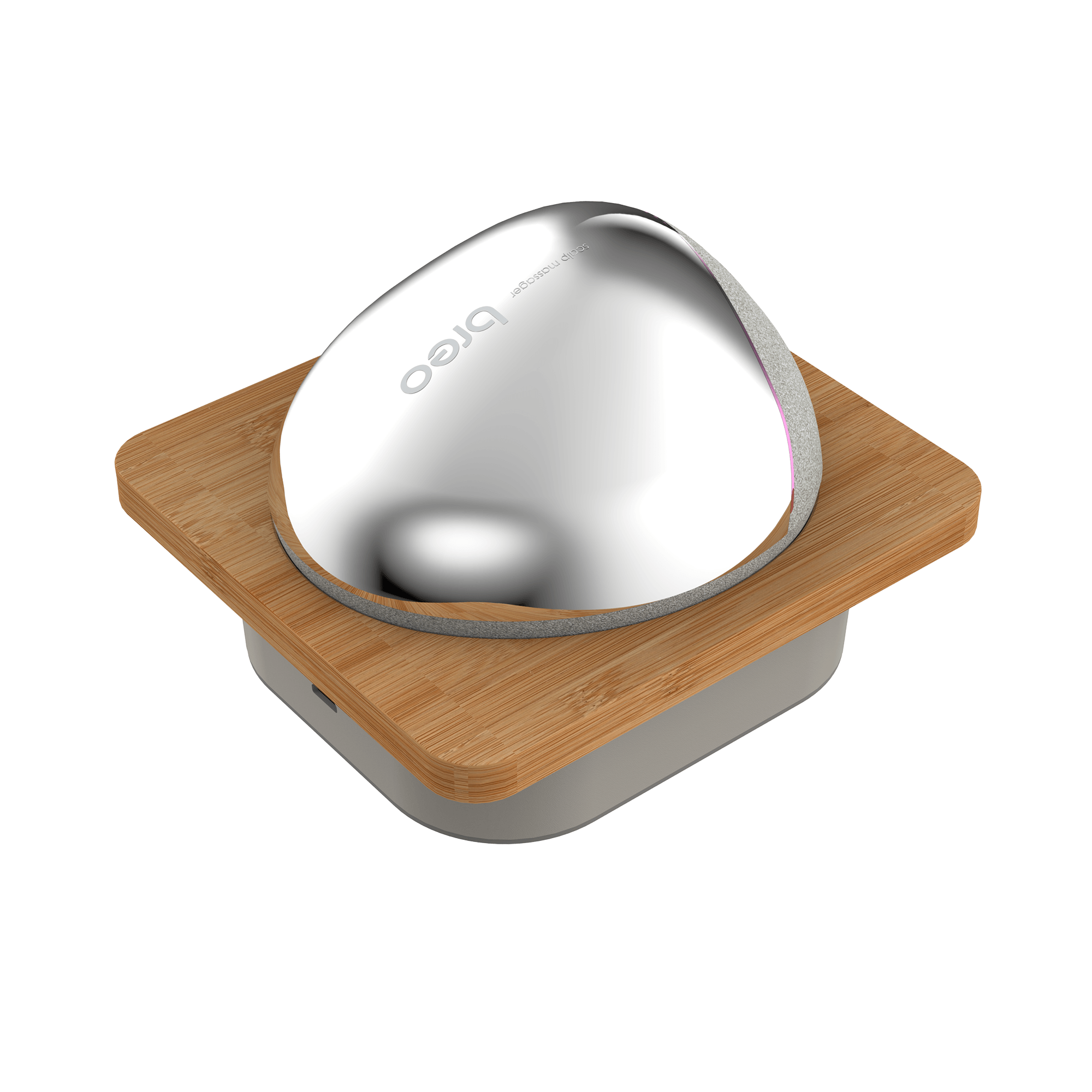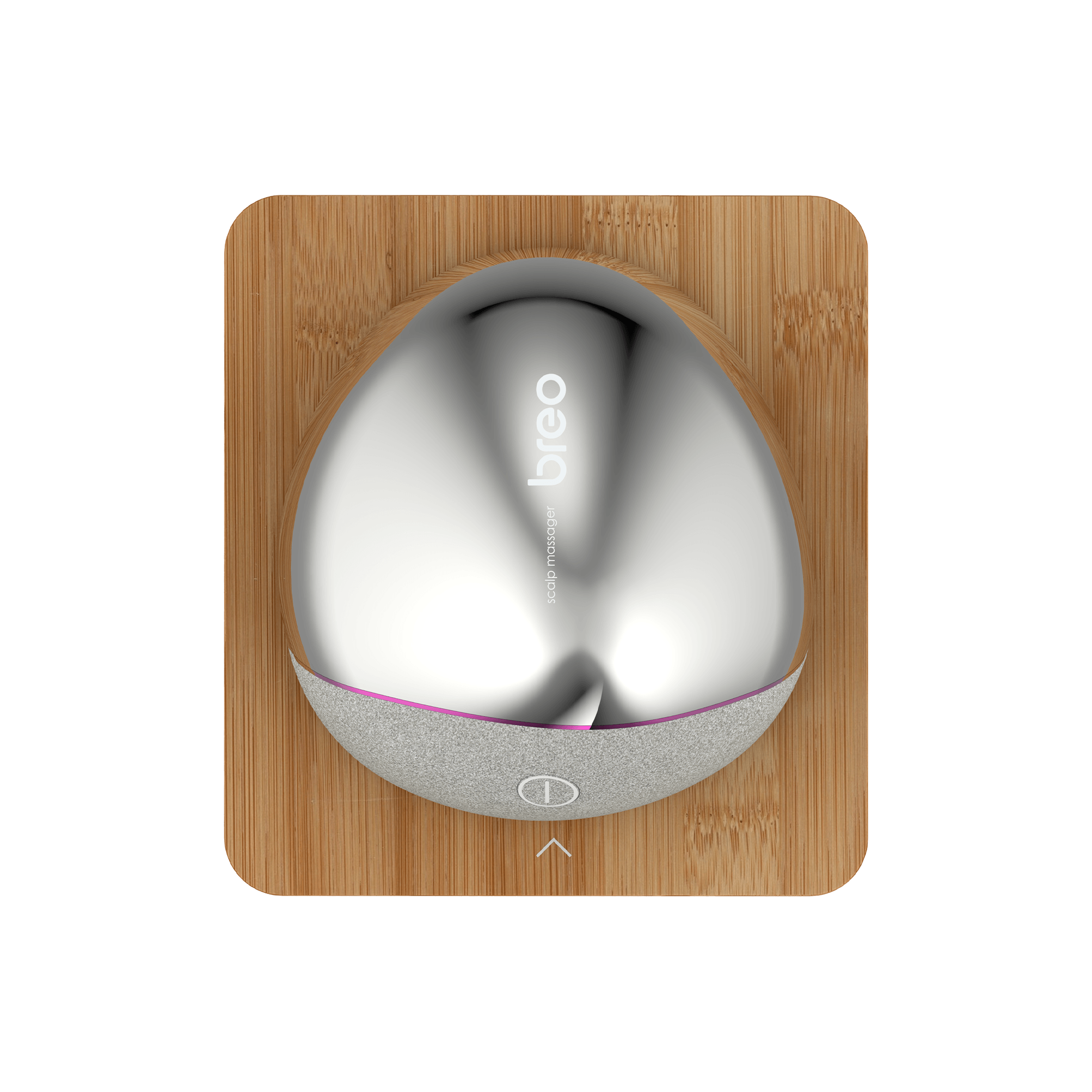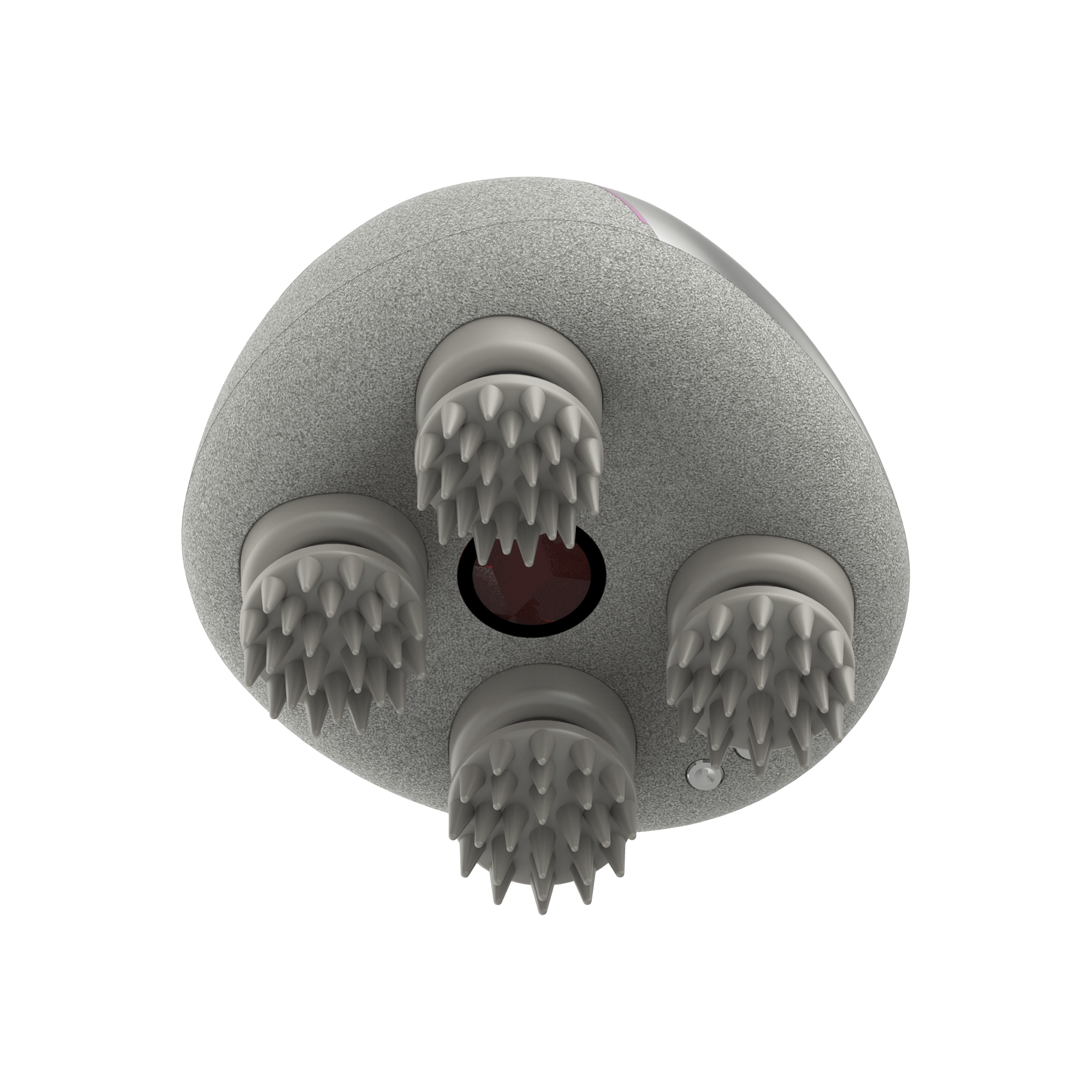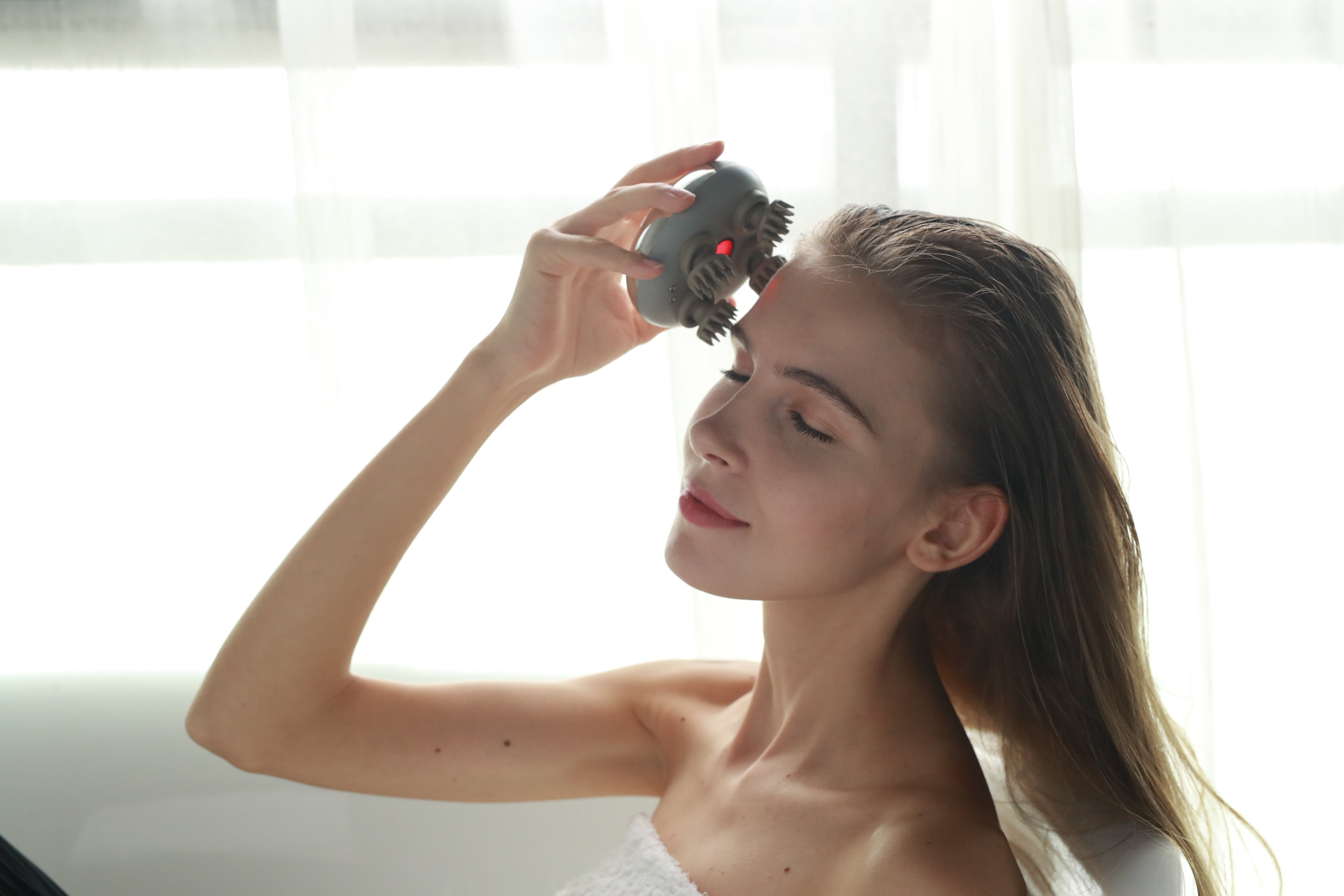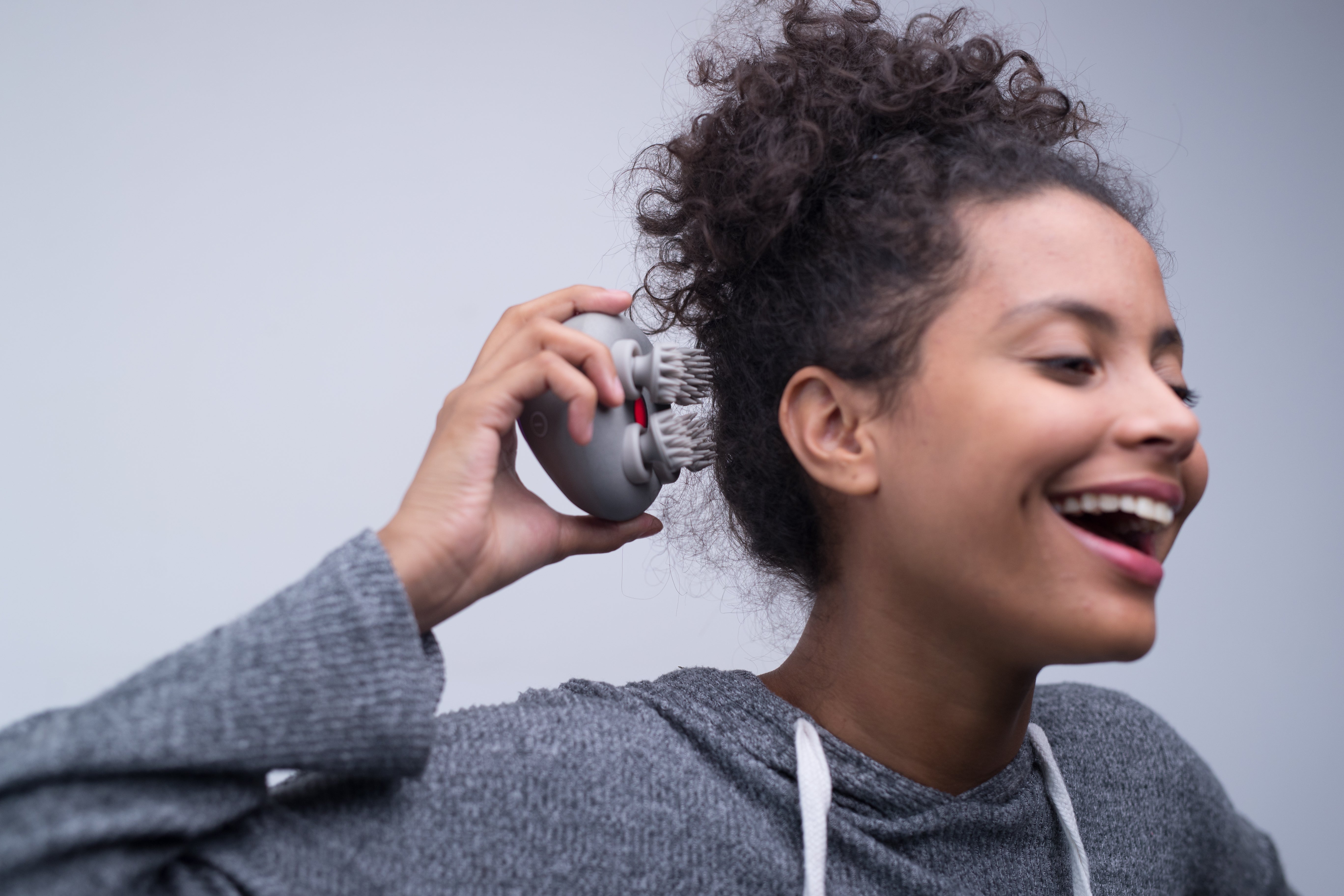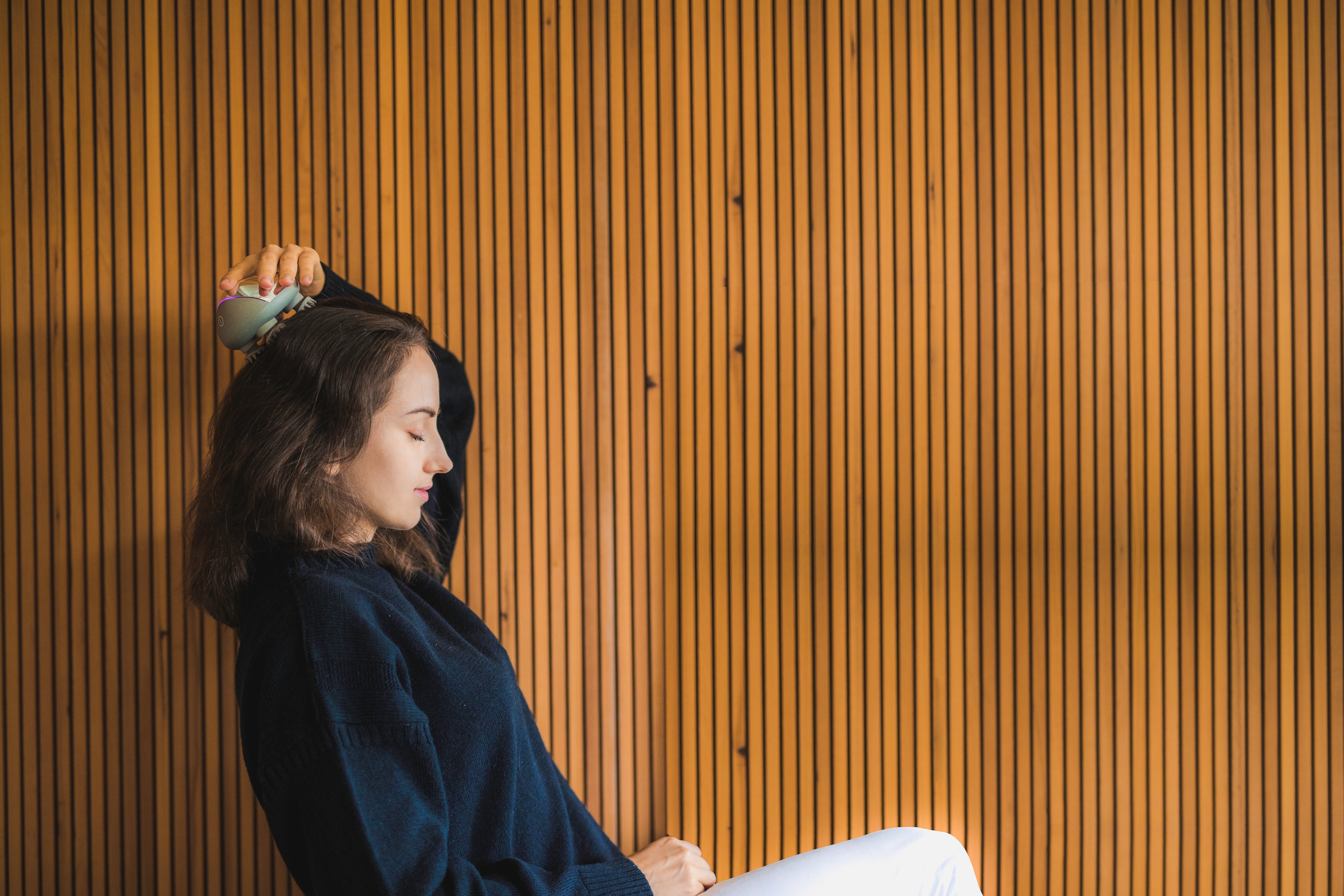 Waterproof, compact and restorative technology for an effective head and body massage
Breo Scalp Mini Pro Massager Silver with Base
Free Standard Shipping | 30-Day Return | One-Year Warranty 
Please be advised that all our products are designed for US standards, but the voltage is compatible with 100V-240V. You can use your own country's adapter to use our products. Please make sure to double-check before placing your order.
With its innovative 96 contact points for accuracy and a unique centrifugal rotation, Scalp mini Pro maximizes the benefits of at-home massage with targeted massage patterns made specifically for the scalp and aligns it with the powerful 820-nanometer infrared setting.
The food-grade-silicone-made contact points not only bring you maximum safety but also a balanced pressure, which gives Scalp mini Pro the 'touch of human'. The IPX7 water resistance rating gives you the chance to take Scalp mini Pro in a shower or spa.
Find Instant Relief and Faster Recovery with Breo's Infrared Technology.
The Breo Scalp Mini Pro guarantees your optimal cell health and wellness with our in-demand infrared therapy. Energize your scalp, hair follicles and muscles with the massager's powerful 820-nanometer infrared setting that stimulates your body's natural rejuvenation processes to strengthen and speed up recovery.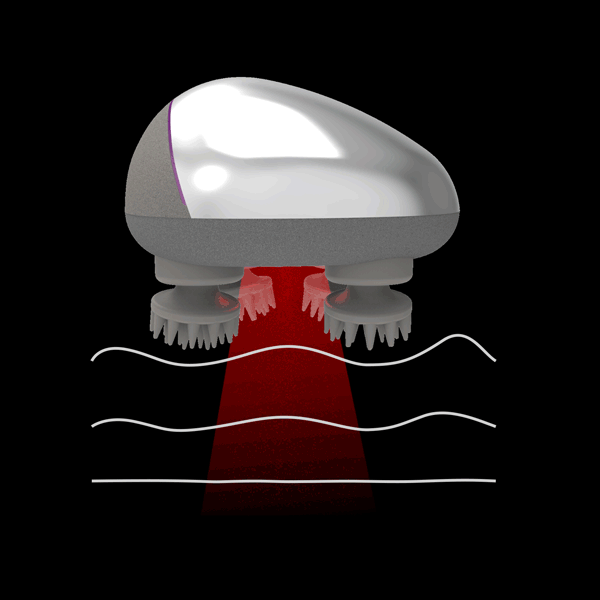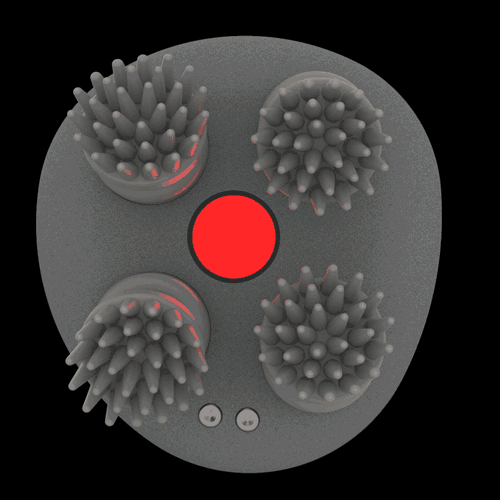 Leave No Muscle Untouched With Multidirectional Rotation.
Hair, head and muscle revival is made easier with the Breo Scalp Mini Pro's innovative pressure point technology. 
The device is powered by our science-backed massage therapy principles, delivering just-right clockwise and counterclockwise movements in concert with your knots and contact points. A cutting-edge motor provides consistent pressure to stimulate all targeted muscles and cells.
Rejuvenating Relaxation.
Infrared technology for faster relief, recovery and vitality.
Enabled with infrared technology, the Breo Scalp Mini Pro penetrates deep into the skin with its 850 nm infrared radiation to stimulate cells and muscles. Benefits include energized tissues, improved blood circulation and reduced aches and pains.
Durable High-Quality Design.
Resilient, water-resistant silicone is gentle on skin.
The Breo Scalp Mini Pro is compact, waterproof and made with the highest quality materials - including food-grade silicone for elasticity and durability.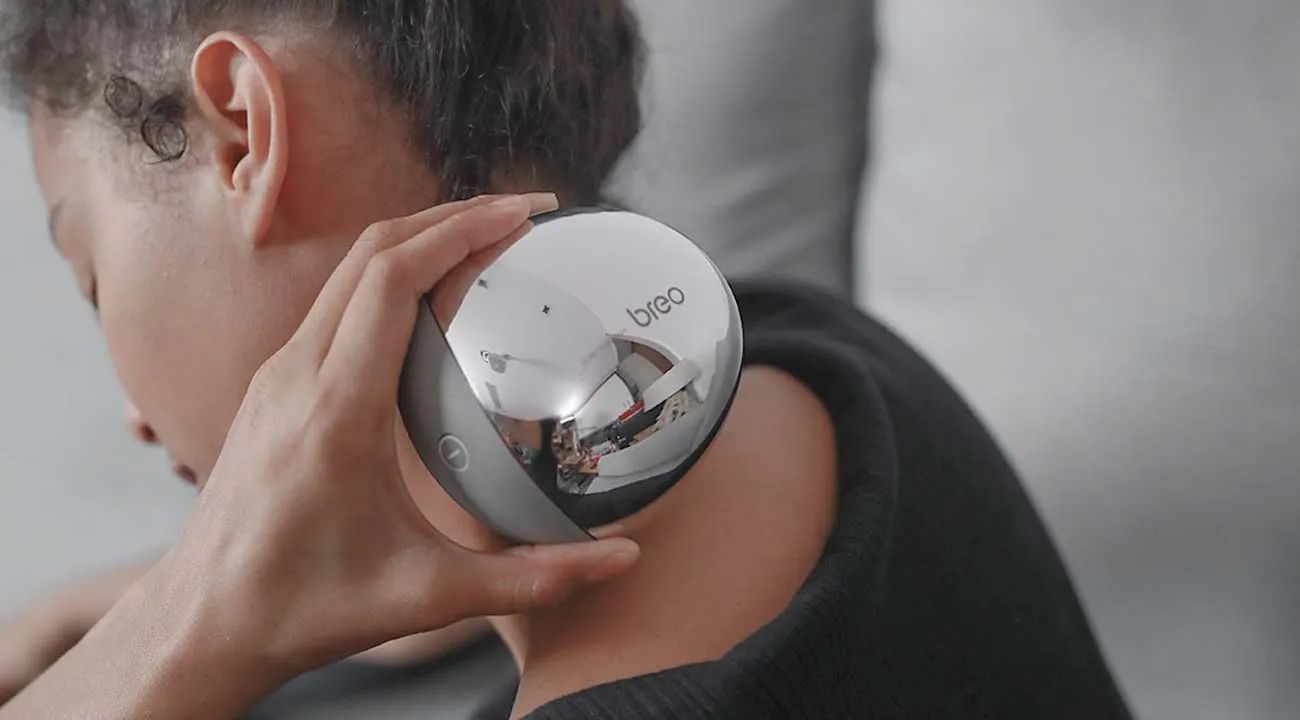 Versatile Technology.
The massage possibilities are endless.
With its ergonomic and flexible design, the Scalp Mini Pro can be used on the entire body, with targeted massage patterns made specifically for the head and scalp, too. Buy one massager, and receive multi-functional pain relief that can be tailored to meet your specific massage therapy needs.
Precise Pressure-Point Targeting.
Target muscles with a perfectly pinpointed massage.
With 96 contact points for accuracy and a unique centrifugal rotation, this massager maximizes the benefits of at-home massage with laser-focused kneading and rolling for each individual body.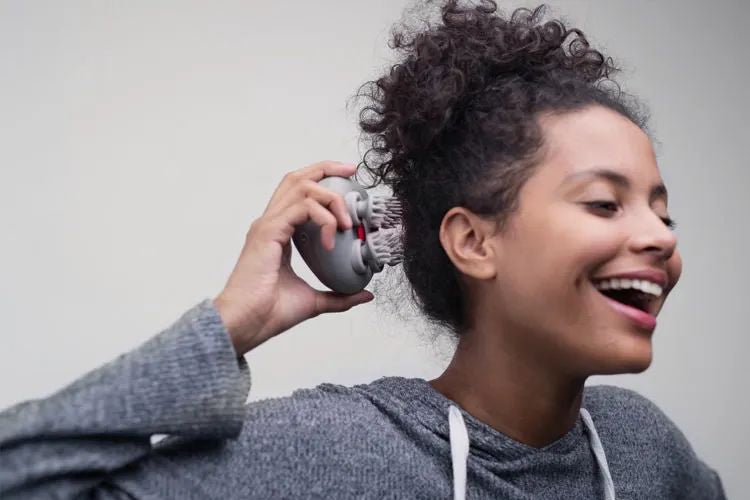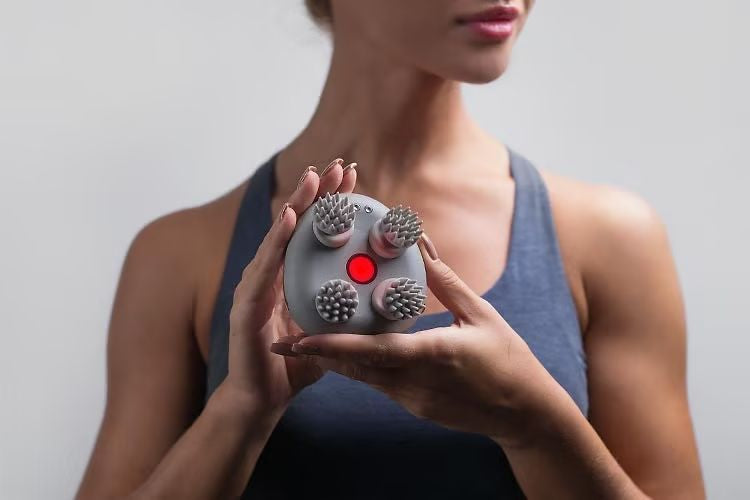 Patent-Protected Innovation.
Take at-home massage to new heights.
The Scalp Mini Pro is a patented product built with uniquely precise massaging heads, an unrivaled rotation technique and an elegant ergonomic design.
PRODUCT NAME:
breo Scalp mini pro

MODEL:
scalp mini pro

BATTERY LIFE:
2.5 hrs

MATERIALS:
fabric / ABS / PU

COLOR:
silver / grey / wooden
CHARGING TIME:
2.5-3 hrs

INPUT:
5V⎓

NET WEIGHT:
375 g

CHARGING PORT:
magnetic USB

WATERPROOF:
IPX7
DIMENSION:
L4.33in × W4.72in × H3.22 (inch)

BATTERY CAPACITY:
1150 mAh

ACCESSORIES:

charging dock / storage bag / magnetic charging cable / micro USB charging cable

POWER RATING:
5W
Q: Is the charging base waterproof?
A: Scalp Mini Pro is natural and environmentally waterproof. However, the base should not be exposed to water. Please drying up Scalp Mini Pro before plugging it back to the charging base.

Q: How to power on Scalp mini Pro?
A: Please follow the instructions below to power on the device appropriately:
1. Place the massager on the charging base which shall be connec­ted with this product's original USB Cable;
2. When you charge this product, the white indicator will flicker, and then be ON when it is fully charged;
3. During the charging process, it will not work; if you charge it during its working process, it will automatically enable its self-protection program and stop working.
4. Such charging process will last for 2 to 3 hours.
Using the charging base to power the massager:
Using magnetic charging cable to power the massager:
Q: What's the difference between Scalp Mini and Scalp Mini Pro?

A: Scalp Mini Pro is equipped with infrared ray technology to enhance the massage experience, while the Scalp Mini is a basic model with powerful kneading technology. You can't go wrong!